6 Best Bachelorette Party Trends of 2021
This your ultimate list of bachelorette party trends of 2021. So if you are looking for Some amazing ideas for your bachelorette party, then we've got you covered.
Having a theme for your bachelorette party is not necessary, but it could definitely help jazz it up and make it more festive. Some bachelorette party themes could be as simple as blushing bride or fancy as Disney.
One of the biggest stressors surrounding these events is the issue of money. It's nearly impossible to be able to plan a bachelorette party where everyone's budget is the same. Some people may be going through a rough patch financially, while others may find themselves to be quite comfortable. This disparity is the quickest way to make lots of people feel uncomfortable, embarrassed, or worried about what is supposed to be a really fun event.
Whether you'll be having a fun-packed weekend or a night of enjoyment, our checklist is only here to guide you.
1. Bachelor Bachelorette Combo Party
There's nothing quite like a celebration with your closest friends before you take the next big leap into marriage. But the TRADITIONAL bachelor or bachelorette party ideas don't feel totally like you. Sometimes, a co-ed bash is a perfect solution! And if you and your partner share close friends, it makes perfect sense to bring everyone together!
Instead of focusing on a bash for just the bride or just the groom, this joint party can be inspired by who the bride and groom are as a couple, along with their shared interests and friends. The Bachelor Bachelorette Combo Party might just be the way to go!
2. Covid Friendly Male Revue Show
Ever wonder what it would be like to see a Magic Mike style show in real life?  Well now you can! From America's Got Talent Season 9 & 13, Florida's #1 Male Revue just changed the game and has now set the new standard in the male entertainment industry. Rock Hard Revue features a sexy all-male cast tantalizing you with synchronized choreography, themed costumes, and even audience participation. Featuring choreography from the former director of Chippendales, this show is guaranteed to get your heart racing. This is one of the steamiest shows out there — even compared to those actually on the Strip! — and the perfect event for a girls' night out, Dirty Thirty, or Bachelorette Party Ideas. Just be sure to make a pact first: what happens at this show, stays at this show.  This is without a doubt the Best Bachelorette Party Ideas in Orlando!
3. Pole Dancing
Pole-dancing is a new bachelorette party favorite and there are a few venues offering group pole dancing classes in Orlando: Vixen Fitness, Allure Dance, and Foxy Fitness Studio & Pole Dancing.
Bachelorette Party Pole Dancing
​A fun and sexy pole-dancing bachelorette party is the way to go! All parties are a blast with pole dancing, sexy chair, twerk, or go all out with a combination of all 3! They can plan your entire evening if you wish!
4. Parties at Home
The popularity of house parties is increasing!  Lounging by the pool, hanging out around a fire pit, slumber parties, brunches, there are tons of amazing parties that can be done at home!   These options are popular choices right now.  Quality time with your best friends can never be replaced, and is even more important before a big milestone, like a Wedding!
5. A Wellness-Themed Bachelorette Party
It's true: bachelorette party themes have evolved, especially for those who want to be more mindful and healthier about the overall experience. Since the bach party is one of those wedding events where we encourage couples to pursue their favorite interests and hobbies, those who prefer yoga, relaxation, massages and overall balance should consider a wellness-themed bachelorette party, complete with green juice cocktails and farm-to-table meals.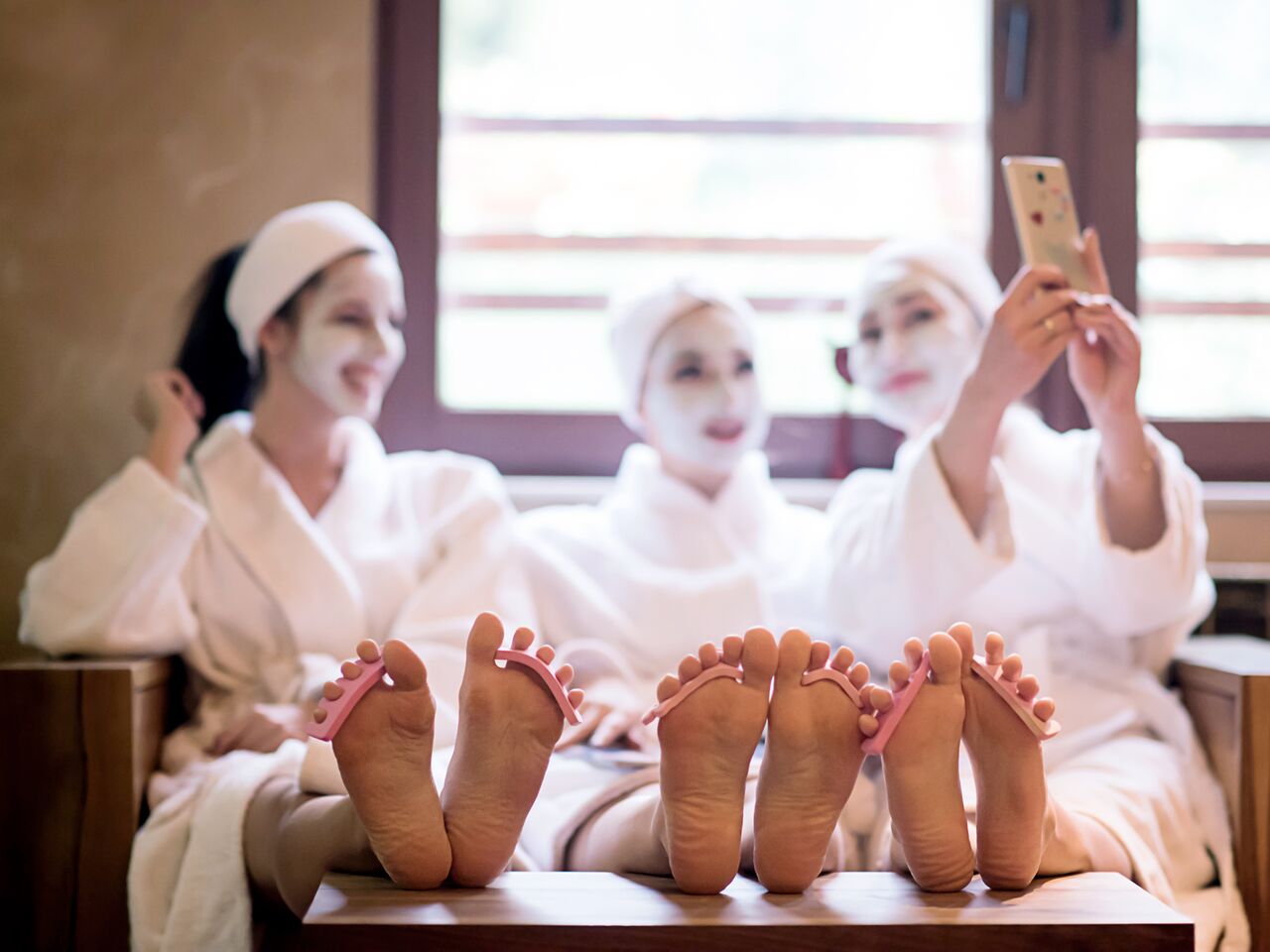 Also in this category are spa-themed bachelorette parties, which can include everything from massages to group facials to a manicure party. Maybe the day begins with a high-intensity workout or a hot yoga class, and ends with a sense of being centered and well before the wedding.
6. Airbnb Rentals Are Popular
Sourcing and booking homes in hot bachelorette party destinations are trending, and one of the most preferred amenities might be pools. While hotel rooms still remain the preferred option of choice (53% of bach parties book a hotel or an all-inclusive resort), rental homes like Airbnb and VRBO have gone up by 7% in popularity since 2019. The average number of guests hasn't changed with about 10 loved ones total typically attending a bachelorette. Want to spice up the night with some eye candy? Add a few Bare Naked Butlers to wait on you hand and foot! Handsome and charming servers will mix your cocktails, serve food, play party games, and ensure you don't lift a finger.
Whether you'll be having a fun-packed weekend or a night of enjoyment, these 6 new trends for bachelorette parties in 2021 will guide you to having the most memorable night of your life!.